A free 7-day easy vegan meal plan including recipes for breakfast, lunch, dinner, snacks, and dessert! All of the recipes use ingredients you can easily find at your local grocery store and are quick to prepare. Enjoy this plant-based menu as is, or feel free to select just a few recipes to try.

HOW MEAL PLANNING CHANGED MY LIFE!
When I first went vegan, I found myself wandering around the grocery store selecting ingredients at random. I wasn't sure what to buy! Then when I got home, I would face the dreaded question, what do I make for dinner? Sometimes, I would find myself staring into my fridge, unsure of what to make with the random ingredients I had purchased. Other times I would find a recipe I wanted to try but then I would realize that I didn't have all the ingredients I needed.
Ever been hangry? That was a regular occurrence for me! Then at the end of the week, I would have lots of leftover food going to waste in my fridge because I hadn't figured out a way to use the produce I bought before it went bad. I had to learn a new way, so I began meal planning.
Instead of buying random ingredients, I took the time to plan out a week's worth of meals in advance including a grocery list of everything I would need for the week. Grocery shopping became quick and easy and I was even saving money!
When it came to cooking, I was no longer stressed or unsure of what to make, it was suddenly so simple to get dinner on the table. Hangry be gone! I discovered the magic of meal planning!
Meal planning is the easy way to organize your meals for the week ahead. You can save time and money, and get rid of the stress. No longer will you wonder what's for dinner, and no longer will you be letting food go to waste.
THIS 7-Day MEAL PLAN
Today I'm sharing with you a free 7-day meal plan full of scrumptious vegan recipes. This is exactly how I plan all my meals for the week. Not only does it take the stress out of eating plant-based or vegan diet, but it saves time, money, and I end up eating so much healthier making all of my meals at home.  Feel free to use this meal plan as a guide to planning your week.
ABOUT THE EASY VEGAN MEAL PLAN
I've been meal planning for years, and now I'm introducing to you my new meal planning site called The Easy Vegan Meal Plan. The meal plan below is a free taste of everything I have to offer in the Easy Vegan Meal Plan.  As a 2x bestselling cookbook author and 8-year vegan I've learned all of the tricks and techniques that make eating plant-based easy peasy and delicious!
Here's how it works: Every week, meal plan subscribers are provided a new meal plan that has been hand-created by me. This weekly meal plan includes a video where I walk you through the meal plan, printable recipes, a printable and editable grocery list, and amazing customer support. The meal plans are completely customizable, so if you want to swap out recipes, add new recipes, or if you're only interested in dinners, you can easily edit the meal plan to suit your personal needs. Then just print the editable grocery list or take the grocery list with you on smartphone and hop to the store, and save yourself time and money. Eat out less, waste less food, and fall in love with cooking plant-based.
Click here to learn more about The Easy Vegan Meal Plan and start your 14-day free trial!
Now onto the Free 7-Day Easy Vegan Meal Plan!!!
Below you will find a full week of vegan meals. I'm a huge fan of leftovers as they save so much time and money, so you will see that I include those in the meal plan as well. Now onto the week!
Monday
Let's start the week off right with a burst of chocolate and coffee in my Mocha Smoothie. For lunch my Ranch Chickpea Salad Sandwich is a go-to staple for me. This sandwich is reminiscent of a chicken salad sandwich. For dinner, let's make a hearty pasta- try my lentil ragu. Smoky, tomatoey, meaty, and easy to make.
Tuesday
For breakfast try my Vegan Toast Dipping Sauce. This sauce takes only 5 minutes to make and the coolest part is that it tastes just like eggs! Cut up some toast smeared with vegan butter to make toast soldiers. For lunch, enjoy leftover lentil ragu. We love leftovers in The Easy Vegan Meal Plan as it makes life simpler! Cook once, enjoy twice. Then for dinner, let's celebrate taco Tuesday with my tofu taco crumbles. Chewy, meaty, and delicious!
Wednesday
Start the morning by enjoying another round of mocha smoothies, yum! For lunch try my simple vegan egg salad sandwich. I once fed this vegan egg salad to a crowd of non-vegans, and they didn't even realize it wasn't real eggs! Then for dinner try my fan-favourite Sweet Korean Lentils. This recipe takes just 15 minutes to make and is bursting with flavour.
Thursday
Start the day with my hearty tofu scramble. For lunch enjoy the leftover Sweet Korean Lentils. For dinner, these Vegan Mushroom Tofu Lettuce Wraps will be a hit!
Friday
Enjoy the leftover Tofu Scramble for breakfast. For lunch try my Vegan Tofu Caesar Wrap- you won't regret it. And for dinner let's enjoy these hearty vegan beet burgers. Don't like beets? Don't worry, my husband Adam doesn't like beets, but he loves these burgers! The beets add colour and earthiness to the burgers, but when combined with the other ingredients in the recipe you don't taste the beets, you just taste delicious burger patties!
Saturday
Let's have fun with breakfast and try my Easy Vegan Sheet Pan Pancakes. Once you try sheet pan pancakes, you will never go back! They are just so easy to prepare. For lunch enjoy this hearty chipotle lime bean salad. This salad can be made ahead of time and just tastes even better the longer it sits around. Then for dinner, my Vegan Egg Roll in a Bowl is a must! It tastes like an egg roll but it has been made into a healthy meal.
Sunday
On Sunday, have fun with making your own homemade vegan cream cheese. Enjoy the leftover Chiptole Lime bean Salad (trust me you will want to make this all the time)! And for dinner try my Creamy Pesto Pizza. Meal plan members said that this pizza tastes like it's from a gourmet restaurant! Try drizzling a little balsamic glaze over top for some extra pop.
Snacks & Desserts
And lastly, snacks and desserts. In the Easy Vegan Meal Plan I have a section dedicated to this because you can enjoy them anytime you like throughout the week. For a savoury snack try my roasted chickpeas recipe. I love how crispy crunchy these chickpeas get! And for dessert, lately, I'm loving my Vegan Chocolate Chip Banana Squares. They taste like banana bread but fluffier!
I hope you enjoy this week of vegan recipes. Feel free to follow this week I have planned for you or just try a sample of recipes. Check out the Easy Vegan Meal Plan if you're interested in simplifying your plant-based cooking. And let me know if you have any questions! Whether you are 100% vegan or you are just dipping your toe in the plant-based world, I welcome you! 🙂
Bon appetegan!
Sam Turnbull.
PS.
Join me for my new free masterclass How to Save Time & Money with a Plant-Based Diet (All while getting healthier too)! ​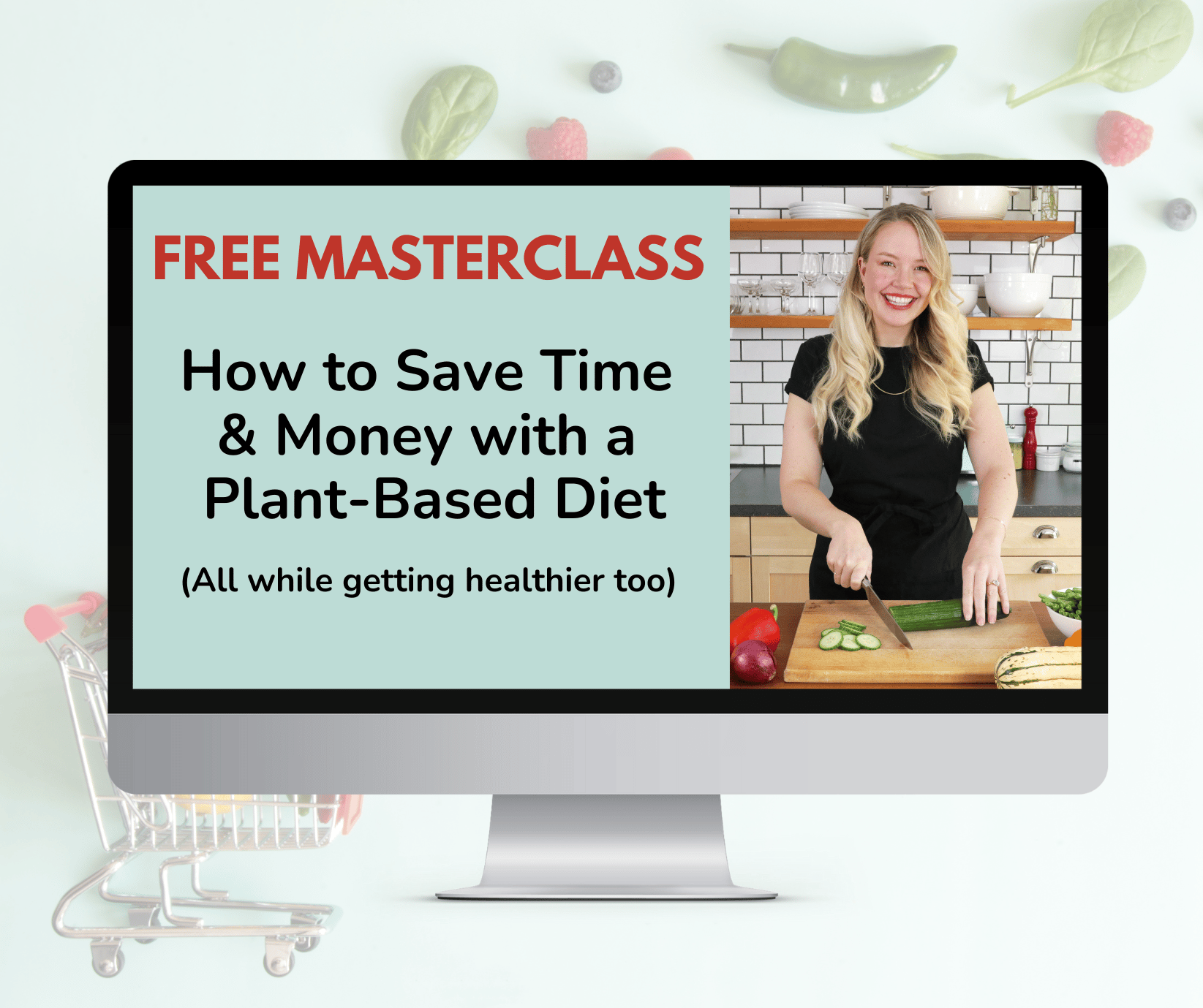 ​
DURING THIS FREE TRAINING YOU WILL LEARN:
How to save up to 59% on your grocery bill!
How to properly meal plan to save you more than 52 hours!

My 3 "P's" approach to mastering a plant-based diet
THIS MASTERCLASS IS PERFECT FOR YOU IF...
You are new to a plant-based diet

You've tried to go plant-based but failed

You feel like you never have enough time to cook or prepare meals

You're never sure if you are getting enough vegetables, protein, and fiber, in your diet.

You're concerned about food waste. You are always throwing out expired food.

Inflating grocery prices are stressing you out.
In this class you will learn how I went from always feeling sick to THRIVING on a plant-based diet. LEARN MORE​